---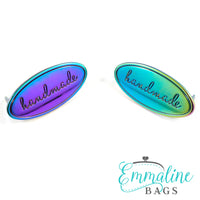 Designed by Janelle MacKay of Emmaline
Slightly domed on the front, this oval metal bag label is our favourite thing!  It's professional looking, creates a focal point, and is just PRETTY!  The black ink in the lettering and border is easy to see and very striking. These will look great on any bag, tote, lunch kit, or other handmade project. 
Measurements: 
12.5 mm (1/2") x 39 mm (1-1/2")
++Attaches with two prongs on the back that fold over a metal washer.